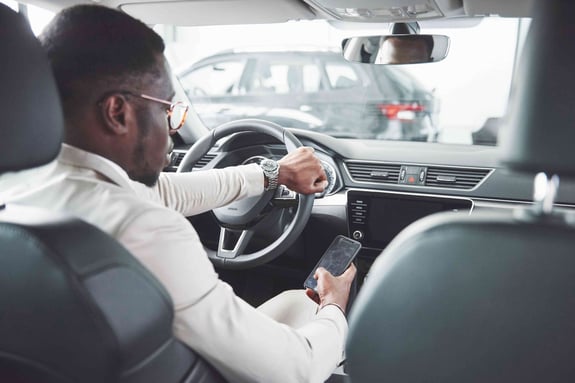 Frequently Asked Questions
FAQs
How does eZhire Work?
What is eZhire?
eZhire makes it easy for you to get a rental car — from ordering and delivery to customer service and extension, our app features are powerful alone, but they're even better together. No deposit required.
How is eZhire different from traditional car rental?
At eZhire, we don't require customers to provide a deposit on any car rental. This makes it easy and convenient for our customers to get the car they need when they need it.
We're committed to making your car rental experience as frictionless as possible.
That's why we don't require a deposit when you rent with us. We believe that deposits for car rental are a thing of the past, and we're excited to offer our customers a simpler way to rent.
eZhire offers the fastest delivery, anywhere, on-demand, 24/7 as well as free pickup from one of our many locations in the UAE.
When you're planning a trip, the last thing you want to worry about is transportation. With eZhire, you can easily order a car rental online, so you can focus on what matters most: enjoying your trip.
We're breaking down the barriers to car rental for as many people as possible. By making it more affordable and accessible, we're opening up new opportunities for everyone.
eZhire wants to make sure that everyone has the opportunity to order a car, regardless of their background.
We believe that everyone deserves the chance to enjoy the freedom of the open road.
Unlike traditional car rental companies, we accept debit cards as payment for ordering a car.
What type of vehicles are available from eZhire?
There is a wide selection of cars available on the app, and we can get you whatever car you want. If not, we'll get you an upgrade at the same price.
You can choose from economy cars like the Mitsubishi Attrage and Nissan Sunny to SUVs like the Nissan Pathfinder. We also offer luxury and exotic cars like Lamborghini Huracan and Rolls Royce Phantom.
Do you offer monthly car rentals?
eZhire offers monthly car rental in Dubai at highly discounted and competitive rates. We have a large fleet of cars to choose from, so you can find the perfect one for your needs.
Plus, our app makes it easy to reserve a car for any length of time. Contact us today to learn more about our monthly car rental services.
Do you offer chauffeur services?
Absolutely. We have a team of experienced, reliable, and safe drivers who will take you wherever you need to go.
Our rates are very reasonable, and we always offer the best possible service. Contact us today for more information or to book your ride.
What are eZhire's operating hours?
eZhire offers the fastest delivery, anywhere, on-demand, 24/7 as well as free pickup from one of our many locations in the UAE.
How do I order a car rental?
You can order a car rental on the eZhire app, and get it delivered, on-demand. The app offers an easy way to compare prices and find the best deal for your needs. You can also order a car for as little as one day or for as many months as you like. So if you need a car for a short trip, or if you're planning a longer vacation, the eZhire app has you covered. Plus, there's no need to worry about hidden fees or add-ons; all of our rates are upfront and transparent. No deposit required.
How do I contact customer support?
If you have any problems with your car rental, please don't hesitate to contact us through the chat on the eZhire app. We're here to help make your rental experience as smooth as possible!
How come you don't require a deposit?
We want to make car rental as easy and accessible as possible, which is why we don't require a deposit. We believe that every person should have the opportunity to drive, and that's why we work hard to break down the barriers to car rental.
Plus, our rates are always affordable, so you can get behind the wheel without breaking the bank.
Can I extend my order?
You can absolutely extend your rental from the app. In fact, I always recommend that people do it ahead of time to avoid any possible issues.
However, please keep in mind that you have to do it at least 3 hours before the end of your rental. That way, you're not left scrambling if something comes up. For more, please check out the extension and collection policy.
Delivery & Pick Up
Can I get the car delivered and collected?
Yes, you can get your rental car delivered and collected from eZhire. It's perfect for those who don't want to deal with the hassle of picking up and dropping off a rental car at a rental agency.
Where is delivery available?
We deliver all over the UAE.
Can I make an order and get it delivered at night?
Yes, our delivery service is available 24/7. Simply order your car through the app, and choose the delivery time that works best for you. We'll take care of the rest!
How long does delivery take?
It usually takes a couple of hours for your rental car to be delivered. You can track the delivery on the app.
What time is delivery & collection available?
eZhire is committed to getting your car delivered to you when you need it most! We operate 24/7 and are able to deliver the car at any time of the day or night!
Can I pick up the car?
Yes, you can pick up your vehicle from one of our many locations for free.
Do I need to be present during the delivery of your vehicle?
Yes, you will need to be present when we deliver your car. We will need to confirm your identification in order to complete the delivery. Thank you for your cooperation!
What happens if I do not make payments on time?
If you do not make payments, we will start the force collection procedure. This means that your car will be immobilized until you pay the amount you owe.
We strongly advise against this, as it will only cause you more stress and headaches. Make payments on time to avoid any such issues. Thank you for understanding.
Will I be charged if I return the car later than delivery/self pickup time?
Yes, the vehicle must be returned at the same time as delivery/self-pickup, If not then a penalty of 1-day charge is applicable. Collection/Self-return must be raised via the app at least 1 hour prior to your return time.
Rates, Payments & Add-ons
What is the minimum order length?
The eZhire minimum order length for car rental is one day. This means that you must rent a car for at least one day in order to use the service. Thanks for considering eZhire!
Will I get charged if I cancel my order?
If you've placed an order and change your mind, don't worry – we don't charge cancellation fees if you cancel before the car is dispatched.
Once the driver is on their way to pick you up, though, the fee will stand. If you have any questions, get in touch with our customer service team. We're always happy to help!
Which payment methods do you support?
We accept all Credit and Debit Cards. Upload your card details on our secure platform and we will handle the rest.
How do I add a payment card?
To add a payment card on the app, you can either add it to your wallet or else during the ordering process. If you're adding it to your wallet, just open up the menu and select 'Add Credit/Debit Card'.
If you're adding it during the ordering process, first enter your shipping address and then select 'Payment Method. From there, just tap on 'Add Credit/Debit Card' and enter all of the required information.
How do I remove a payment card?
Remove it from your wallet, and if you have an active order, you will need to replace it.
Is it safe to add my card details to the App?
Yes, our payment gateway is secure. We use the latest encryption technology to ensure that your data is safe and secure. Your card details are never stored on our servers, and we will never sell your data to third parties.
How can I check my order receipt?
After your order has been delivered, we'll email you a receipt showing the number of litres dispensed, the price per litre and the total amount charged to your card.
What add-ons are available with ezhire?
Our add-ons include additional drivers, upgraded insurance, GPS and baby seats. You can see the full list of add-one here.
Can I add an additional driver?
Yes, you can add an additional driver while ordering your car, or at any time while you are a customer. If you are a customer, please contact the team via the in-app chat to add a driver.
The rates are as follows:
Daily: 25 AED / Day
Weekly: 105 AED / Day
Monthly: 150 AED / Month
Rental Requirements, Insurance & Policies
What are the eligibility requirements for car rental?
At eZhire, we believe that freedom should be for everyone. That means that our rental eligibility requirements have fewer barriers compared to other companies. (Google is yourself!)
Our eligibility requirements to rent a car in the UAE are as follows:
The minimum age is 21 years old. Tourists can use their own home country driver's licence (provided it is in English).
For residents of Dubai, you'll need a UAE driver's licence, valid passport and visa.
Driving licences can be new.
Do I need to pay a security deposit?
We do not take any kind of security deposit.
What insurance comes with the car?
All cars come with insurance as per UAE law. In case of any type of accident or damage, a police report is mandatory by law. If the police report provided is Green, you will not be charged as this was of no fault of yours. If the police report is Red, there will be excess insurance charges depending on the car type and extent of damage caused. You can learn more about our insurance options here.
Can I upgrade to full insurance?
Yes, you can.
What is your privacy policy?
What are your refund and cancellations policy?
Refund Policy
Refunds will be done only through the original method of payment which can take 7 to 10 working days.
Cancellation
We offer free cancellation until the driver is on the way with your car.
What happens if I get a traffic fine while renting a car?
If you get a traffic fine on your car rental, the Road Traffic Authority (RTA) will send the fine to eZhire. We will then charge your card for the amount of the fine.
Please note that it is important to comply with all traffic laws while driving a rental car, as fines can be quite costly. Thanks for driving safely!
How do I pay Salik while renting a car?
If you pass through toll, the relevant authority will send the fine to eZhire. We will then charge your card for the amount of the toll and send you an email confirmation.
Do I need to pay a surcharge in case of a traffic fine?
Yes, you will need to pay the fine, plus 15-20% plus VAT. If fine is under 350 AED, the surcharge is 20%. Fines over 350 AED incur a surcharge of 15%.
Is there any limit on mileage?
Yes, there is a limitation on mileage depending on the days you have rented the car.
Daily: 225KM
Weekly: 1400 KM
Monthly: 4000 KM


Will I be charged for excess mileage?
Although the mileage is more than enough and crossed in very rare cases, if you drive extra miles then you will be charged as follows:
Excess Kilometer Charges are mentioned below:
Economy: AED 0.50 per kilometre
Small Sedan: AED 0.50 per kilometer
Mid Size Sedan: AED 0.50 per kilometer
Full-Size Sedan: AED 0.80 per kilometer
Mid Size Suv: AED 0.80 per kilometer
7 Seater Van: AED 0.80 per kilometre
Full-Size Suv: AED 1 per kilometre
Luxury Suv: AED 4 per kilometre
Luxury: AED 5 per kilometre
Exotic: AED 15 per kilometre
What is your fuel policy?
Customers are responsible for paying for their fuel consumption. Each car is provided with a level of fuel and customers have to return the vehicle with the same level of fuel as they were given. The difference in fuel will be charged to the customer plus AED 20 Service Charges if the same amount is not returned.
What if I lose the key to my car or if it gets locked for any reason?
If you lose your key, we will provide you with a replacement key. The service charge to provide a replacement key is up to AED 100 depending on the manufacturer.
What is Early Return and how does it affect your rental contract rates?
Early Return is a policy where a customer is allowed to return the car earlier than booked days.
Depending on your requested collection/self-return date the rates may differ on early return request, such as:
If you booked the car for 30 days or more and later requested the car to be collected/self-return earlier than 30 days and greater than 7 days, the rental rates will change from monthly to weekly.
If you booked the car for 7 days or more but less than 30 days, and later requested the car to be collected/self-return earlier than 7 days, the rental rates will change from weekly to daily.
What does roadside assistance cover and what should I do if I need it?
Our roadside assistance service covers services like flat tire replacement, battery jump-start or replacement, lockout service, and fuel delivery (chargeable). If you need roadside assistance, call our 24/7 customer service number and provide your location, contact information, and the issue you are experiencing. Our team will provide the necessary assistance to get you back on the road within 2 hours.
Renting in the UAE - Important Things To Know
What happens if an accident occurs?
In the event of an accident, you must notify the police immediately. You should not move the vehicle until the police issue a report or advise you to do so. Failure to submit a police report will render you liable for all costs incurred as a result of the accident and will result in no insurance coverage.

If it's your mistake and you are provided with Red Police Report - maximum liability will be charged.
If you decide to take full insurance for an extra charge, you will not be charged any excess for Red Report as long as a valid police report is provided.
Punctures, tyre damage, wheel caps, aerials and windscreens are not covered by insurance even after getting full insurance coverage.
What are the traffic fines in the UAE?
The traffic fines in the UAE vary depending on the severity of the offence. As a general rule, fines tend to be higher for offences that cause danger to other road users. To see the full list, please check out our guide to traffic fines.
What is driving like in the UAE?
Renting a car and driving in the UAE can be an incredible experience, as long as you're aware of the unique conditions and rules that apply. In general, traffic is orderly and drivers are courteous. Lane discipline is usually good, and there's rarely any congestion on the roads.
That said, there are a few things to watch out for. The first is that it's against the law to use your mobile phone while driving, so make sure you hands-free kit if you need to take a call. Secondly, there are special rules governing how to overtake camels on the road - make sure you familiarize yourself with these before setting out.
What side of the road do people drive on in the UAE?
People drive on the right side of the road in the UAE.
Are car rentals automatic or manual?
They are almost always automatic. However, there are a few rental companies that offer manual transmission cars for those who prefer them. Just be sure to ask when making your order.
Is it safe to drive in the UAE?
Yes, it is safe to drive in the UAE. The roads are well-maintained and the drivers are generally very cautious.
There are a few things to keep in mind when driving in the UAE, however. First, be aware of the high speeds that people tend to drive at, especially on highways.
Second, make sure to always carry your driver's license and car registration paperwork with you when driving; you may be asked to show them if stopped by police.
Third, watch out for camels and other animals that wander onto the road; they can cause serious accidents. Finally, drink plenty of water while driving in the summer months as it can get very hot and humid.
Disputes and Refunds
How can I dispute charges or fines from my eZhire rental?
To dispute charges or fines, we recommend visiting the [respective dispute pages of the relevant authorities listed above) and following their dispute resolution process. Once you've successfully won the dispute, kindly share the details with eZhire, and we will assist you in processing the refund.
How long does the refund process take?
Refunds are typically processed within 3-7 working days. However, the exact timeframe may vary depending on your bank or financial institution and the evidence provided during the dispute.
Can I get a refund before winning a dispute?
No, refunds will only be issued after you provide valid proof of winning the dispute.
What happens if I lose a dispute?
If you lose a dispute, any associated fines or charges will remain your responsibility.