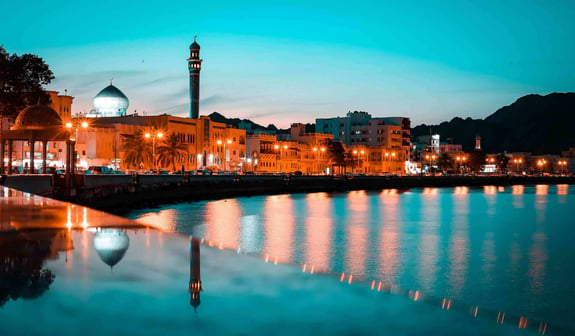 Rent a Car in Oman
On-Demand Delivery, 24/7 Across The UAE. No deposit required.
Freedom. Simplified.
How to Rent a Car in Oman
Oman is a fascinating country located on the southeastern coast of the Arabian Peninsula. It is bordered by UAE to the east. Muscat is Oman's largest city and capital.
There are many car rental companies in Oman, both international and local. You can either rent a car in Oman at the airport or in the city. Most car rental companies require you to be at least 21 years old and have a valid driver's license. Some companies may also require you to have a credit card. When you rent a car Oman, you will be given a choice of many different cars such as sedans or SUVs. Be sure to read the terms and conditions carefully before you sign any contracts. Be sure to take out insurance if you plan on driving in Oman. The roads can be quite dangerous, and accidents are not uncommon. You can also opt for a driver if you do not want to drive yourself. This can be arranged through a car rental company.
Why Rent A Car with eZhire?
Our customers don't need to provide a deposit and we offer the most competitive prices in the region.
We'll deliver to your location within a couple of hours–registered, insured and ready to drive.
We offer a wide and diverse fleet of cars ranging from a Mitsubishi Attrage to a Rolls Royce.
Our 24/7 customer support team is always ready to help with roadside assistance, extension, returns, and more.
01

Choose your car

02

Tell us how long you want it for

03

Add your documents

04

Input delivery location

05

Select add-ons

06

Confirm order
Requirements
What documents do you need to rent a car in Oman?
Car rental Oman document requirements are very strict and hefty fines can be imposed for not meeting the requirements. Make sure you have all the required documents before renting a car in Salalah.
Tourists
International Driving Permit
Car Rental Muscat Airport
Car rental Muscat Airport offers a convenient way to get around the country. The airport is well-equipped with rent a car Oman companies, and you can easily find the right car for your needs. Whether you're looking for a small or large vehicle, there's a rental car company that will fit your needs.
When renting a car from Muscat Airport, be sure to read the terms and conditions carefully. Make sure you are aware of any restrictions or additional fees that may apply. In addition, be sure to have your driver's license and credit card ready when picking up your car.
Renting a car from Muscat Airport is a great way to explore all that this beautiful country has to offer. With a car, you can easily visit popular tourist destinations like Salalah. Or, if you're looking for something more adventurous, you can explore the stunning mountains and beaches that make Oman so unique.
Rent a car in Oman with driver
When traveling in a foreign country, renting a car with a driver can offer several benefits. First, it can help you to get around more easily and see more of the country. Additionally, a driver can offer useful insights into local culture and customs. Having someone to help navigate traffic and parking can also be helpful, especially in big cities. Finally, drivers can often act as interpreters and help you to communicate with locals.
Overall, renting a car with a driver in Oman can enhance your travel experience and make it smoother and more enjoyable. Additionally, there are several reputable companies that offer this service, including eZhire. So consider opting for a car with driver on your next trip to Oman.
Car rental Salalah with eZhire
eZhire is the perfect solution for rent a car in Oman. With eZhire, you can book your rental car quickly and easily online. We offer a wide range of cars to choose from, so you can find the perfect one for your needs. Plus, our prices are unbeatable. You can get a great deal on a rent a car in Oman with eZhire. We also make booking easy. You can book your rental car online in just a few clicks, and we'll take care of everything for you. So why wait? Get your rent a car in Oman with eZhire today!
"I never realized ordering a rental car could be so simple."
Check our reviews given by our valuable customers after using eZhire to order a car.
"
Best rental car app ever! custom service and readiness to accommodate unlike any other rental companies I've ever dealt with. they send someone to pick you up right at the airport terminal and drop you off as well. and NO time wasted with pick up and drop off, altogether 10 minutes experience.
"
"
From the beginning to the end it was a great experience. I was a bit hesitant how to rent the car , where to rent car, one of my friends has recommended me eZhire and I decided to try it and I am very happy its an excellent rent a car app. Their car was nice and clean. I will definitely be coming back.
"
"
Amazing Service Check out eZhire car app before renting a vehicle anywhere. Best rental experience I have ever used. Convinced my colleague to rent on our trip after one ride. Excellent company!
"
"
This was our first time using
eZhire and won't be the last. Pick
up and drop of the car was so
easy. Communication with eZhire
customer support team was
great. The response time of texts
emails was prompt. Price of
rental and quality of the car was
amazing. If you want to rent a
new and clean car, it's the only
way to go!
"
"
The cars are phenomenal! It's stress-free, receiving the vehicle you actually chose while not waiting in line. They're professional and allow me to feel safe with their cleaning procedures.
"
"
I rented an infinity Q 50 for my daughter's 6th Birthday. Its my daughter's favorite car so it was really great to be able to experience her dream car. The car was clean and fast, it was so luxury. The rent was very affordable, with no deposit and no stress to go any shop, just downloaded the app and order the car, the app was great.
"
"
eZhire made hiring a car easy and enjoyable. The car selection is great and the price is very fair. Pick up and drop off was much easier than a traditional rental car company delivery option is also available, recommended
"
"
I have had such an amazing experience by their vehicle delivery in 25minutes, The car was extremely well managed with the latest model and features and their app is very easy to use and loved their quick responses. I would definitely recommend this to each and every tourist visiting Dubai.
"
"
Great app and very good customer service, they always really helpful anytime I need to rent a car, they always answer my queries and I must appreciate the team of customer service. The prices are reasonable and the app has all options to manage the rental from booking to delivery and collection options, highly recommended.
"
"
I never thought about to book and rent a car can be so easy and simple, I absolutely love eZhire. I have so many choices of different cars from small to big and they have discount offers on monthly rental so I booked the Nissan Sentra for one month and the App was so easy to use, one can book a rental car anywhere anytime. Highly recommended!
"
FAQs
Renting a car in Oman - What To Know?
What is eZhire?
eZhire makes it easy for you to get a rental car — from ordering and delivery to customer service and extension, our app features are powerful alone, but they're even better together. No deposit required.
How is eZhire different from traditional car rental?
At eZhire, we don't require customers to provide a deposit on any car rental. This makes it easy and convenient for our customers to get the car they need when they need it.
We're committed to making your car rental experience as frictionless as possible.
That's why we don't require a deposit when you rent with us. We believe that deposits for car rental are a thing of the past, and we're excited to offer our customers a simpler way to rent.
eZhire offers the fastest delivery, anywhere, on-demand, 24/7 as well as free pickup from one of our many locations in the UAE.
When you're planning a trip, the last thing you want to worry about is transportation. With eZhire, you can easily order a car rental online, so you can focus on what matters most: enjoying your trip.
We're breaking down the barriers to car rental for as many people as possible. By making it more affordable and accessible, we're opening up new opportunities for everyone.
eZhire wants to make sure that everyone has the opportunity to order a car, regardless of their background.
We believe that everyone deserves the chance to enjoy the freedom of the open road.
Unlike traditional car rental companies, we accept debit cards as payment for ordering a car.
How do I order a car rental?
You can order a car rental on the eZhire app, and get it delivered, on-demand. The app offers an easy way to compare prices and find the best deal for your needs. You can also order a car for as little as one day or for as many months as you like. So if you need a car for a short trip, or if you're planning a longer vacation, the eZhire app has you covered. Plus, there's no need to worry about hidden fees or add-ons; all of our rates are upfront and transparent. No deposit required.
Can I extend my order?
You can absolutely extend your rental from the app. In fact, I always recommend that people do it ahead of time to avoid any possible issues.
However, please keep in mind that you have to do it at least 3 hours before the end of your rental. That way, you're not left scrambling if something comes up. For more, please check out the extension and collection policy.
Can I make an order and get it delivered at night?
Yes, our delivery service is available 24/7. Simply order your car through the app, and choose the delivery time that works best for you. We'll take care of the rest!
How long does delivery take?
It usually takes a couple of hours for your rental car to be delivered. You can track the delivery on the app.
Do I need to be present during the delivery of vehicle?
Yes, you will need to be present when we deliver your car. We will need to confirm your identification in order to complete the delivery. Thank you for your cooperation!
Can I pick up the car?
Yes, you can pick up your vehicle from one of our many locations for free.
Do you want to rent a car in Oman?
Don't worry, we have got you covered. Check out our available cars here.