Car Rental, Delivered, On-Demand
GET THE EZHIRE APP
Welcome to eZhire, the most convenient way to rent a car! Our App is now available for download, making it even easier for you to book your next rental.

With no deposit required and an easy-to-use interface, you'll be on the road in no time. Download our App now and start your journey today!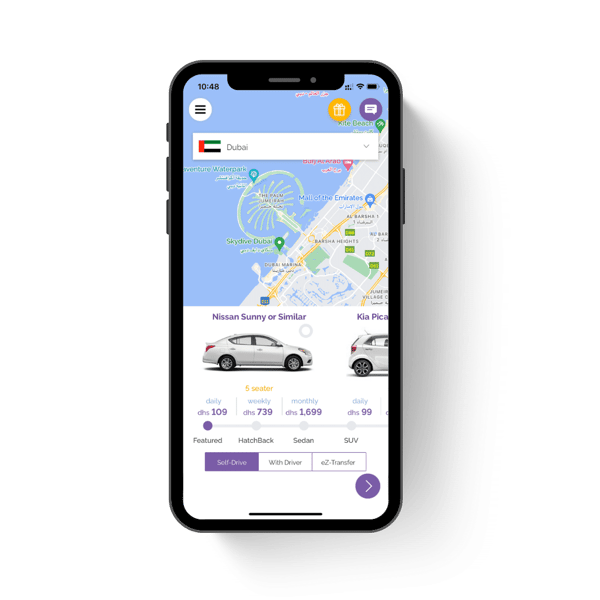 How to order
Order Your Car In 6 Easy Steps
01

Choose your car

02

Tell us how long you want it for

03

Add your documents

04

Input delivery location

05

Select add-ons

06

Confirm order
BENEFITS
On-Demand Car Rental Made Simple.
We'll deliver to your location within a couple of hours–registered, insured and ready to drive.
Our customers don't need to provide a deposit and we offer the most competitive prices in the region.
We offer a wide and diverse fleet of cars ranging from a Mitsubishi Attrage to a Rolls Royce.
Dedicated Customer Support
Our 24/7 customer support team is always ready to help with roadside assistance, extension, returns, and more.
FAQs
How does eZhire work?
What is eZhire?
eZhire makes it easy for you to get a rental car — from ordering and delivery to customer service and extension, our app features are powerful alone, but they're even better together. No deposit required.
How is eZhire different from traditional car rental?
At eZhire, we don't require customers to provide a deposit on any car rental. This makes it easy and convenient for our customers to get the car they need when they need it.
We're committed to making your car rental experience as frictionless as possible.
That's why we don't require a deposit when you rent with us. We believe that deposits for car rentals are a thing of the past, and we're excited to offer our customers a simpler way to rent.
eZhire offers the fastest delivery, anywhere, on-demand, 24/7 as well as free pickup from one of our many locations.
When you're planning a trip, the last thing you want to worry about is transportation. With eZhire, you can easily order a car rental online, so you can focus on what matters most: enjoying your trip.
We're breaking down the barriers to car rental for as many people as possible. By making it more affordable and accessible, we're opening up new opportunities for everyone.
eZhire wants to make sure that everyone has the opportunity to order a car, regardless of their background.
We believe that everyone deserves the chance to enjoy the freedom of the open road.
Unlike traditional car rental companies, we accept debit cards as payment for ordering a car.
What type of vehicles are available from eZhire?
There is a wide selection of cars available on the app, and we can get you whatever car you want. If not, we'll get you an upgrade at the same price.
Do you offer monthly car rentals?
eZhire offers monthly car rental in Tibilisi at highly discounted and competitive rates. We have a large fleet of cars to choose from, so you can find the perfect one for your needs.
Plus, our app makes it easy to reserve a car for any length of time. Contact us today to learn more about our monthly car rental services.
Do you offer chauffeur services?
Absolutely. We have a team of experienced, reliable, and safe drivers who will take you wherever you need to go.
Our rates are very reasonable, and we always offer the best possible service. Contact us today for more information or to book your ride.
What are eZhire's operating hours?
eZhire offers the fastest delivery, anywhere, on-demand, 24/7 as well as free pickup from one of our many locations.
How do I order a car rental?
You can order a car rental on the eZhire app, and get it delivered, on-demand. The app offers an easy way to compare prices and find the best deal for your needs. You can also order a car for as little as one day or for as many months as you like.
So if you need a car for a short trip, or if you're planning a longer vacation, the eZhire app has you covered. Plus, there's no need to worry about hidden fees or add-ons; all of our rates are upfront and transparent. No deposit required.
How do I contact customer support?
If you have any problems with your car rental, please don't hesitate to contact us through the chat on the eZhire app. We're here to help make your rental experience as smooth as possible!
How come you don't require a deposit?
We want to make car rental as easy and accessible as possible, which is why we don't require a deposit. We believe that every person should have the opportunity to drive, and that's why we work hard to break down the barriers to car rental.
Plus, our rates are always affordable, so you can get behind the wheel without breaking the bank.
Can I extend my order?
You can absolutely extend your rental from the app. In fact, I always recommend that people do it ahead of time to avoid any possible issues.
However, please keep in mind that you have to do it at least 3 hours before the end of your rental. That way, you're not left scrambling if something comes up. For more, please check out the extension and collection policy.
Download The EZhire App Now & Order In Minutes
Get a rental car delivered, hassle-free. No deposit required.