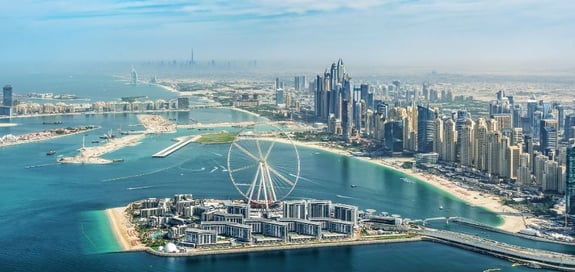 Rent a Car in Deira, Dubai
On-Demand Delivery, 24/7 Across The UAE. No deposit required.
Freedom. Simplified.
Your Guide to Car Rental in Deira
Deira, located in the northeastern part of Dubai, is a bustling district known for its traditional souks (markets), gold shops, and vibrant street life. Whether you're visiting for business or pleasure, renting a car in Deira is a convenient and cost-effective way to explore the area and all that it has to offer.
The car rental market in Deira is quite competitive, with a variety of options available. Customers can choose from a wide range of vehicles, including economy cars, luxury vehicles, and SUVs cars for rent.
People usually rent a car in Dubai for a variety of reasons such as for business trips, vacations, airport transportation, and for people who don't own a car but need it for a short period of time. Some people may also choose to rent a car in Deira as an alternative to buying a car, as it can be more cost-effective.
Ezhire is a car rental service that operates in the Deira area of Dubai. We offer a variety of vehicles for rent, including sedans, SUVs, and Luxury cars for rent. Customers can browse and reserve vehicles on the eZhire website or mobile app, and then pick up and drop off the vehicle at a designated location in Deira. eZhire also offers car with driver and Self-drive service, so the customer can have the vehicle delivered to their location and picked up when they are done. Additionally, eZhire offers flexible rental options, including hourly, daily, weekly, and monthly car rental in Dubai. The service also includes insurance and 24/7 roadside assistance.
4 Reasons To Rent a car in Deira with eZhire
Our customers don't need to provide a deposit and we offer the most competitive prices in the region.
We'll deliver to your location within a couple of hours–registered, insured and ready to drive.
We offer a wide and diverse fleet of cars ranging from a Mitsubishi Attrage to a Rolls Royce.
Our 24/7 customer support team is always ready to help with roadside assistance, extension, returns, and more.
Ordering a car rental couldn't be simpler. Just open up the eZhire app and follow these simple steps.
01

Choose your car

02

Tell us how long you want it for

03

Add your documents

04

Input delivery location

05

Select add-ons

06

Confirm order
Why Trust Us?
eZhire has been leading the car rental industry in UAE for years.
100,000+
Satisfied Clients
Requirements
What documents do you need to Car Rental in Deira, Dubai?
Tourists
International Driving Licence & Permit
Valid Passport & UAE Visa
Benefits of Renting a Car in Deira
Renting a car in Deira can be advantageous for several reasons:
Convenience
Renting a car in Deira means you have the freedom and flexibility to come and go as you please. With your own vehicle, you won't have to rely on public transportation or expensive taxi rides to get around. This is especially useful if you're planning to visit multiple locations in the area, such as the Deira City Centre mall or the Dubai Creek.
Cost-Effectiveness
While the initial cost of renting a car in Deira may seem expensive, it can actually save you money in the long run. Using public transportation or taking taxis everywhere can add up quickly, especially if you're planning to stay in Dubai for an extended period of time. Additionally, rental cars in Deira often come with unlimited mileage, so you won't have to worry about incurring additional charges for driving long distances.
Exploring the Area
Deira is home to a number of interesting and unique attractions that you won't want to miss. The Deira Old Souk is a must-see, with its narrow alleys lined with shops selling everything from spices and textiles to gold and electronics. The Dubai Creek is also a popular destination, where you can take a traditional dhow boat tour or visit the Dubai Museum. With a rental car, you'll have the freedom to explore all that Deira has to offer at your own pace.
Tips for Renting a Car in Deira, Dubai
Be aware of the traffic laws and customs in Dubai.
Familiarize yourself with the layout of the roads and highways.
Have a plan for where you want to go and how to get there.
Check the car for damages before accepting it.
By following these tips and renting a car in Deira, you'll be able to make the most of your time in Dubai and experience all that the area has to offer.
FAQs
What is eZhire?
eZhire simplifies the process of renting a car by offering a comprehensive and seamless experience through our app. From booking to delivery and customer service to extending your rental, our app provides a convenient and hassle-free solution. Additionally, we do not require a deposit.
How do I order a car rental?
The eZhire app makes it easy to rent a car, with the convenience of on-demand delivery and the ability to compare prices and find the best deal for your needs. Whether you need a car for a short trip or a longer vacation, no hidden fees and no deposit is required.
Can I extend my order?
You can easily extend your rental on the eZhire app, it's recommended to do it in advance to prevent any possible issues. However, please note that extensions must be made at least 3 hours before the end of your rental to ensure availability. For more information, please refer to our extension and collection policy.
What is the cost of renting a car in Deira?
eZhire offers Kia Picanto can be rented for AED 99 per day, and the Nissan Sunny can be rented for AED 109 per day. Here you can check all the car list which eZhire offer Car Selection
What insurance is required when renting a car in Deira?
All our cars are comprehensively insured. In case of an accident, if it is not your fault and you provide us a 'Green Report' from the Police, there will be no charges. However, if it is your fault and you provide us with a 'Red Report' from the Police, there will be excess insurance charges which depend on the type of car and the extent of the damage. You can add full insurance on the app while booking the car. This ensures that you pay nothing for excess charges in both Green or Red report scenarios.
How old do you need to be in order to rent a car in Deira?
eZhire offers the minimum age to rent a car in UAE is 21 years old and most car rental companies will require the same age requirement. Some car rental companies may also have additional requirements such as a minimum length of time that the driver has held their license.
Do you want to rent a car in Deira, Dubai?
Don't worry, we have got you covered. Check out our available cars here.